Linda Weber Realty, Inc.
We Make Good Deeds Happen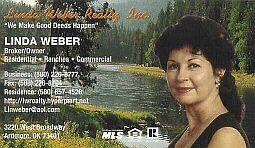 Linda has been an active realtor for 30 yrs. and formerly associated with Coldwell Banker. A graduate of business school in Oklahoma City and the Ardmore Higher Education Center, She is an active member of the Southern Oklahoma Board of Realtors, Oklahoma Board of Realtors and the National Association of Realtors. She has always excelled with a high level of production in all phases of real estate. She has customers from across the U.S. and foreign countries, as well as a host of customers and clientele in the local area.

3220 W Broadway
Ardmore, OK
Phone: 580-226-8777
Home: 580-657-4526
Mobile: 580-224-7050
---
Lots & Acreage
50 BEAUTIFUL ACRES WITH TALL HILLSIDE PLAINVIEW DISTRICT
THIS BEAUTIFUL 50 ACRE TRACT IS LOCATED NEAR BUSSELL RIDGE ROAD SOUTH OF PLAINVIEW SCHOOL.
IT HAS A 660' BLACKTOPPED LEGALLY RECORDED EASEMENT INTO THE PROPERTY. IT HAS LOTS OF DEER, TURKEY, HOGS AND OTHER WILD CRITTERS. IT HAS A BEAUTIFUL TALL HILLSIDE WITH SOME VERY SCENIC VIEWS.
LOTS OF TALL TREES OF VARIOUS KINDS. IT IS LOCATED IN THE PLAINVIEW SCHOOL DISTRICT. IT IS NEAR HIGHWAY 70 AND WITHIN ABOUT SIX MILES OF I-35.
ASKING: $265,000.00
****************************************************
Wildlife including deer and turkey. Lots of beautiful birds.

24.68 acres with gorgeous oaks

This is a beautiful property with lots of large oak trees and great sandy loam soil. It would be perfect for a small horse operation. It has about 12 acres of timber. It is totally fenced with a nice piped entry. The land has been surveyed.

There is a nice metal shop/with living quarters (living quarters have been roughed in and needs a small amount to be completed. It has 750' of living space and is a one bedroom, one bath home. The shop and home are insulated. The shop has lots of cabinets and florescent lights. Two overhead doors with openers and one entry doo

This is conveniently located near I-35 and within 5 miles of the Ok. Tex. line.

Asking: 151,500.00 but would consider a good offer. SOLD SOLD SOLD

Located at 16912 Hwy. #77, Marietta (located North of Thackerville school approximately 1+ mile).

**************************************************************************

To go to the next page, please click on the orange lizard facing right on the lower right side of this page
......................Ple